The Dare Project #6
April 4, 2007 - The Wings Theater (NYC)
Dare: 3 characters: Mark Twain, Stephen Hawking, and Bob Dole all live underneath a dying child's bed
A Family Tragedy
Mother, Father, and guests under the bed, try to raise the spirits of a very sick little girl.
John: Christopher Catalano
Tracy: Missy Moser*
Liza: Devin Sanchez
Mark: Matt Suber
Bob: Shannon Michael Wamser*
Special thanks: Shana Solomon
Dare: A feather duster, a sad clown, and a dead fish
Break it Down
On the way to their ten year high school reunion, three girlfriends are stranded when their car breaks down on the highway.
Dead Fish: Mary Kelley
Sad Clown: Jamie Ansley
Feather Duster: Emily Whyte*
Special thanks: Random Craigslist Guy and Zach Fisher
Dare: A romantic comedy set on the last day of earth
Allen Smith's 7A
With the apocalypse imminent, a not-so-ordinary guy finally gets to check off the last item on his wish list.
Allen: Dan Matisa*
Sarah: Megan Cain
Sgt. Tanner: Brett Essenter*
Dare: A woman is struck in the head by a flying dog. She falls into a coma. While in a coma, she dreams of living on a ranch and raising buffalo
Losing Your Marbles
A woman is stuck in a dreamlike conflict with her id, superego and spirit while trying to awake from her coma.
Narrator: Terry Small*
Jane: Kelly Mealia*
Flying Dog: Brian Luna*
Id: Aaron Kliner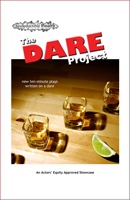 Stage Manager: Jillian Coneys Front of House: Leslie Dock, Kendra Kay, Mike Wamser
Light Board Operator: Scott Casper
Sound Board Operator: Robert W. McMaster

taxdeductible theatre also wishes to thank...
James Beeler Photography
St. Patrick's Church
Bob Choinere
Tom Fazio
Henry Pham
Liz Montenegro and Anheuser-Busch, Inc.
NYC Department of Cultural Affairs/NYC Department of Sanitation/NYC Department of Education.
The Wings Theatre
click here for a pdf version of the program
* denotes actor appears courtesy of Actors' Equity Association.
¤ denotes taxdeductible theatre core member.