The Dare Project #20
May 16, 2012 - Urban Stages (NYC)
photos by Kyle Groff - visit Kyle Groff Photography
DARE: To write an up with people play already.
Sacrifices
The Gods must be angry... really, you would be too if you met these people.
Sheldon, a human sacrifice: Blake Merriman
Ismene, a student at NYU: Amanda Ladd
Hades, god of the dead: Christopher Catalano*¤
Ares, god of war: Shannon Michael Wamser*
Artemis, goddess of the moon: Jolie Curtsinger*
DARE: A play where a scientific concept well-known to most people is portrayed as something controversial.
God is an Atheist and He/She/It wants us to be one Too
What goes up, must come down.
Elvita: Bethany McNamara
Mr. Martin: Scott Casper*¤
Mrs. Adams: Alix McEachern Jones*¤
Mr. Adams: Jed Aicher*
Anne: Ursula Anderman
Special thanks to any scientist or science teacher ever as well as Hogan, Bryn, Scott, Rich, Billy, Thrasher, Bonaparte, Kyle, Lauren, Bethany, Jed, Alix, Ursula and of course...Amy.
DARE: Beautifully bound failures.
Beautifully Bound Failures
In packing up her dead father's house, a young woman learns what's worth keeping.
Sarah: Ashley Hesse*¤
Jack: Brett Essenter*
Jake: Christopher Catalano*¤
DARE: To write a play w/ the 3 amigos, 3 musketeers and 3 men and a baby.
Wise Men
Three men-children cope with growing up through majesty of VHS.
Matt: Alex Pappas*
Wade: Brad Makarowski*
Johnny: Travis Mitchell
Dare: A ten minute adaptation of the work towards a full length project, currently in development with taxdeductible theatre.
The Dead Horse
Everyone is a hero. Everyone is a sinner. Who will choose for you?
Mesa: Ayanna Siverls
Norman: Robert Larkin¤
Special thanks to Sharon Woodley, Roxana Tejada, and Maria Leite for hours of idiom discussions.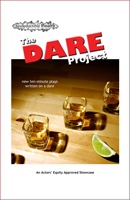 Front of House: Ursula Anderman, Melissa Boatwright, Bryn Boice¤, Kyle Groff, Bianca Nejat
Booth Operator: Robert W. McMaster¤

taxdeductible theatre also wishes to thank...
Kyle Groff Photography
St. Patrick's Church
Shetler Studios
Bob Choinere
Tom Fazio
Urban Stages Theatre
click here for a pdf version of the program
* denotes actor appears courtesy of Actors' Equity Association.
¤ denotes taxdeductible theatre core member.