The Dare Project #17
March 23, 2011 - The Wings Theater (NYC)
photos by Kyle Groff - visit Kyle Groff Photography
Dare: A ten minute preview of one of the full length plays currently in development with taxdeductible theatre
After the Party
The last person to leave the party gives the host something to remember her by.
He: Mike Mihm¤
She: Lesslie Dodge Crane*¤
Dare: STRIKE!
XO
It's closing night, and the set isn't the only thing left to strike.
X: Taylor Galloway
O: Dan Matisa*
Crew: Michael Poignand*¤
Special appearances: Wendy Bagger¤, David Castro
Dare: A Jacobean Tragedy (lots of blood, murder & betrayal) starring kindergartners
The Kindergartner's Tragedy
A long plan for vengeance finally comes to fruition, tearing a family apart one member at a time.
David: Kyle Groff*
Nell: Lauren Stanford*
Special appearances: Bridget Harvey*, Dan Matisa*
Dare: To write a naked play with no nudity AND a Five Foot tall clown plays the guitar
Full Frontal
An innovative therapy technique reveals some things which may be best left hidden.
Him: Christopher Catalano*¤
Her: Ami Jhaveri
Special thanks to Ryan Rossetto for helping us be naked. You have a gift.
Dare: To write a ten minute preview of another full length plays currently in development with taxdeductible theatre.
The Dissolution Room
How much faith do you have in your online profile?
Matthew Johnson: Michael Poignand*¤
Margaret Johnson: Wendy Bagger¤
Abbott George Ludden: Robert Larkin¤
Novice Madeleine Goddard: Amanda Ladd*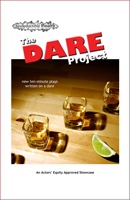 Front of House: Ashley Hesse¤, Amy Moum
Light Board Operator: Kendra Kay¤
Sound Board Operator: Robert W. McMaster¤

taxdeductible theatre also wishes to thank...
Kyle Groff Photography
The Church of Immaculate Conception in Astoria
St. Patrick's Church
Bob Choinere
Tom Fazio
The Wings Theatre
click here for a pdf version of the program
* denotes actor appears courtesy of Actors' Equity Association.
¤ denotes taxdeductible theatre core member.