The Dare Project #27
December 8, 2015 - The Chain Theatre (NYC)
photos by Nicholas Alexiy Moran - visit www.nicholasmoran.com - assisted by Kevin Rose
See more Dare Project 27 photos in our flickr set
Dare: WHO: A man and his two girlfriends.
Ramen at Forty
One woman, one mannequin, and one dummy.
Cecilia: Paige Gilbert
George: Alex Pappas*¤
Dare: WHERE: The front door of my building.
Something Old, Something New
At a certain point, every couple has the same conversation.
Erin: Amanda Ladd*¤
Aaron: John Lampe
Toni: Adair Moran*
Tony: Nicholas Alexiy Moran*¤
Dare: WHY: They are united by their love of Karaoke, but divided by everything else
A Square to Spare
Super Science Nerd vs. Super Karaoke Slut: Fight for the future!
SSN: Bridget Harvey*
SKS: Rachel Brill
Darrell: Nicholas Alexiy Moran*¤
Dare: WHEN: Jan. 8th (Elvis' birthday).
Love Me Tender
One impersonator's quest for an authentic life.
Julie: Lesslie Dodge Crane*¤
Aron: Brian A. Costello*¤
Elmo: Mark D. Garkusha
Spiderman: Kevin Rose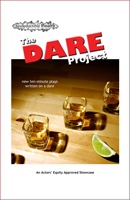 Front of House: Wendy Bagger¤, Alix McEachern Jones¤
Production Photographer: Nicholas Alexiy Moran¤
Booth Operators: Scott Casper¤, Robert W. McMaster¤
taxdeductible theatre also wishes to thank...
Robert Choiniere
The Chain Theatre
Tom Fazio
Shetler Studios
Spaceworks Studios
Variations Theatre Group


click here for a pdf version of the program
* denotes actor appears courtesy of Actors' Equity Association.
¤ denotes taxdeductible theatre core member.