The Dare Project #14
March 10, 2010 - The Wings Theater (NYC)
DARE: To make horizontal, vertical stripes, AND polka dots look gooood!
Here Comes the Bride
In the final minutes before she walks down the aisle, the bride decides what she won't give up for her man.
Bride: Anna Stone*
Special thanks to Robert W. McMaster¤, Kendra Kay¤, Laurie Schaefer/InProximity Theatre, and Kymberli McKanna
DARE: Write a play about leaving your sneakers during a one night stand.
Dear Hungry
Forgotten details have consequences in an online affair.
Hungry: Jolie Curtsinger*
Husband: Dan Matisa*
Shepherd612: Bryant Mason*

DARE: To write a comedy where every character dies. Twice.
Troopas
The occupational hazards of an unconventional workplace.
Alpha: Tim Sheridan
Bravo: Devin Sanchez
Charlie: Jimmie Galaites*¤
DARE: To use the theme, "My Dog is a Black Hole, My Cat is the Angel of Death."
What Comes Next
At the end of his life, a man chooses how he wishes to spend eternity.
He: Aaron Kliner¤
She: Alix McEachern Jones*¤
DARE: To write a play where the characters of Scooby Doo discover the cult (secret cult) that started the Smurfs.
Scooby-Doosical
The Scooby Gang is on Spring Break in France and finds a Smurftastic secret.
Fred: Rich Fromm*¤
Daphne: Kelly DeNicolo*
Velma: Bryn Boice*¤
Shaggy: Christopher Catalano*¤
Scooby-Doo: Patrick Benedict
Voice of The Villain: Hal Lublin
Ensemble: DeUndre C. James*; Kendra Kay¤; Andrea McCullough*; Michael Poignand*¤; Sasha Weiss*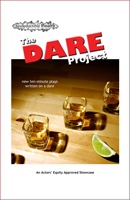 Front of House: Ursula Anderman, Maddie Burns, Lesslie Dodge Crane¤
Light Board Operator: Robert W. McMaster¤
Sound Board Operators: Jana Lancaster, Mike Mihm¤

taxdeductible theatre also wishes to thank...
Kyle Groff Photography
The Church of Immaculate Conception in Astoria
St. Patrick's Church
Bob Choinere
Tom Fazio
The Library Hotel
The Wings Theatre
click here for a pdf version of the program
* denotes actor appears courtesy of Actors' Equity Association.
† denotes director is a member of Stage Directors and Choreographers Society.
‡ denotes librettist is a member of the Dramatists Guild of America, Inc.
¤ denotes taxdeductible theatre core member.