The Dare Project #10
February 13, 2008 - The Wings Theater (NYC)
Dare: Every sentence must begin with an onomatopoeia
Don't Drop the Soap
Kaliedescope the Clown and Conjunction the Kangaroo return to present a musical comedy revue in prison.
Kaleidoscope the Clown: Jed Aicher
Conjunction the Kangaroo: Christopher Catalano
Momma: Joe Ardizzone
Choo Choo: Joseph Regan
Sexy Gossip Show Host #1: Jimmie Galaites
Sexy Gossip Show Host #2: Christopher Goodwin
Dare: Write a play about an obsessive compulsive sanitary worker
Consuela
A late-shift maid confronts her inner demons -- and the obsessed man who works upstairs.
Consuela: Sarah Stockton
Man: Dan Matisa
Guard: Dan Schultz
Dare: Write a ten minute nursery rhyme
Jack and Jill on the Way Uphill
Nursery Rhyme realities get jumbled up as Jack and Jill meet for lunch at a hilltop cafe.
Jack: Kyle Groff
Jill: Sara Beth-Lee Williams
Mary: Angela Dirkson
Dare: A musical, based on the film, The Remains of the Day
What Remains
While recording their next album, the band's story plays out through their music.
"G": Justin Badger
Katie: Kelly Mealia
Dirk: Brian Luna
Tobias: Terry Small
"What Remains": lyrics by Terry Small, Music by Justin Badger
"Boba-Fett" and "Political Pig": music and lyrics by Terry Small and Galen Piltz
Dare: A play about an old woman who walks into walls
Walls
A son is concerned about his mother's apparent dementia and her causing harm to herself.
Mom: Charlotte Hampden
Son: Dan Schultz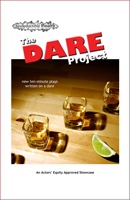 Front of House:
Light Board Operator:
Sound Board Operator:

taxdeductible theatre also wishes to thank...
James Beeler Photography
The Wings Theatre
click here for a pdf version of the program
* denotes actor appears courtesy of Actors' Equity Association.
¤ denotes taxdeductible theatre core member.