The Dare Project #19
January 25, 2012 - Urban Stages (NYC)
photos by Kyle Groff - visit Kyle Groff Photography
Dare: The least interesting use of time travel possible.
The Fix
What would you do with the ultimate do-over?
Travis: Robert W. McMaster¤
Pam: Amanda Ladd*
Casey: Lesslie Dodge Crane*¤
Wheezy: Stefan Schuette
Dare: To write a play that is backwards.
My Father's Hand
The precisely wrong answer to every important question.
Jeannie: Ashley Hesse*¤
Father James: Shannon Michael Wamser*
Special thanks to Kyle Groff
Dare: Beginning with the line "This belongs to you, doesn't it?" And ending with the line "Tomorrow, Tomorrow. I'll bury him tomorrow."
The Place to Be
The Wake of The Drunk Whisperer.
Bryan: Josh Clayton*
Johnny: Alex Pappas*
Patrick: Brett Essenter*
Old Dudes I, II & Old Billy: Robert Larkin¤
Mickey: Michael Poignand*¤

Dare: Present mediocre is better than future exceptional.
Sails
A brief chat between friends may determine the course of the world.
Margot: Lauren Orkus*
Leo: Christopher Catalano*¤
Edward: Kyle Groff*
Albert: Dan Matisa*
Dare: A ten minute adaptation of the work towards a full length project, currently in development with taxdeductible theatre.
There but For...
Two women discover what they have in common; and what they don't.
Grace: Wendy Bagger¤
Nurse: Bryn Boice*¤
Gail: Alix McEachern Jones*¤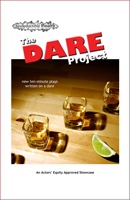 Front of House: Ursula Anderman, Kendra Kay, Carly Rappaport
Booth Operators: Scott Casper¤, Robert W. McMaster¤

taxdeductible theatre also wishes to thank...
Kyle Groff Photography
The Church of Immaculate Conception in Astoria
St. Patrick's Church
Bob Choinere
Tom Fazio
Urban Stages Theatre
click here for a pdf version of the program
* denotes actor appears courtesy of Actors' Equity Association.
¤ denotes taxdeductible theatre core member.