The Dare Project #12
June 4, 2008 - The Wings Theater (NYC)
loading slideshow
Dare: A play a play about a French FedEx worker.
À la FedEx
A young French girl makes a name for herself in the rough office culture of Federal Express.
Madeleine: Lori McNally*
Mary: Merideth Maddox
Gavin: Jimmie Galaites*
Frank: Stephen Day
MaMa: Marci Elyn Schein
Beefcake 1: Rich Fromm*
Beefcake 2: Walker Lewis

Dare: A play about Johnny Depp being gay.
JOHNNY
An investigation into the disappearance of a movie star leads a quiet detective to a young fanboy.
Detective: Wes Day
Fan: Isaac Gardner
Dare: A play where all the characters are killed at the beginning, and no one becomes a ghost.
Everyday a Little Death
Learning the family business teaches lessons of life and death.
Grim: Christopher Catalano
Syphie: Sarah Mucho
Dare: Broke, in traction, and lovin' it!
My Undivided Attention
A crippling injury leads a man to cope directly with the voice inside his head.
Nurse: Peter Aguero
Man: Scott Casper*
Special thanks to Lesslie Dodge Crane and Jeff Whipple
DARE: 846B7392CFUK
Crack
A team of bank robbers share a past, while fighting the clock to crack a safe.
Lights: Christopher Catalano
Tech: Michael Poignand*
Dress: Bryn Boice*
Sound: Erik Gratton*
Spot: Ashley Gray*
Special thanks to Michael Nicholas and the Broadway Comedy Club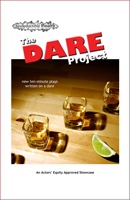 Front of House: Lesslie Dodge Crane
Light Board Operators: Scott Casper and Kyle Groff
Sound Board Operator: Robert W. McMaster

taxdeductible theatre also wishes to thank...
James Beeler Photography
St. Patrick's Church
Tom Fazio
Anheuser-Busch
The Library Hotel
NYC Department of Cultural Affairs/NYC Department of Sanitation/NYC Department of Education
The Wings Theatre
click here for a pdf version of the program
* denotes actor appears courtesy of Actors' Equity Association.
¤ denotes taxdeductible theatre core member.