The Dare Project #9
December 12, 2007 - The Wings Theater (NYC)
DARE: A ten minute love story involving senior citizens
Family Values
Two older gentlemen prepare for a night out of celebration with their visiting daughter.
Bennett: Oliver Conant
Andrew: John Freda*
Rita: Kelly Howe
Dare: Christians: Friend, or Foe?
CWC
Members of "Coping With Christianity" meet to support each other and confront their common foe.
Nick: Joe Ardizzone
Harry: Bill Bria
Mary: Daisy Rosario
Jesus: Ethan Baum*
Dare: To make someone truly repentant.
sculpther
Three observers comment on a living figure modeled before them.
Yellow: Mike Mihm
Red: Michael Poignand*
Blue: Bryn Boice*
Figure 1: Danny Jensen*
Figure 2: Amy Elizabeth Sabin
Figure 3: Josh Tagrole
Special thanks to Chris Rummel. For Betsy.
Dare: An alcoholic mother, a power hungry lawyer and a bag of stolen birthday wishes collide at a diner
The Hopeful Ones
Mother and son confront old wounds at his birthday dinner.
Son: John Keitel*
Mom: Marci Elyn Schein
Waitress: Andrea Marie Smith
Special thanks to Byrd re: 'fucking shit up'
Dare: Write an action play where no characters move from their original mark.
Trigger Happy (or, Don't Fucking Move)
A young Iraqi man gets to know shadowy US "Security Officers" when all three are ambushed.
Hatch: Zach Fischer*
Decker: Kevin Dwyer
Ali: Al Nazemian*
Special thanks to Samir Khalidy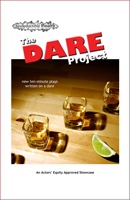 Front of House: Kendra Kay
Audience Coordinator: Toni Hull
Production Manager: Beth Brown
Light Board Operator: Scott Casper
Sound Board Operator: Robert W. McMaster

taxdeductible theatre also wishes to thank...
James Beeler Photography
St. Patrick's Church
Tom Fazio
Kyle Groff
NYC Department of Cultural Affairs/NYC Department of Sanitation/NYC Department of Education.
The Wings Theatre
click here for a pdf version of the program
* denotes actor appears courtesy of Actors' Equity Association.
¤ denotes taxdeductible theatre core member.