The Dare Project #18
November 22, 2011 - Urban Stages (NYC)
photos by Kyle Groff - visit Kyle Groff Photography
The Dare Project #18 was little different than previous iterations. Whereas there is generally a different dare drawn for each new piece, all the scripts in #18 were based on the same dare -- which will also serve as the inspiration for our first full-length production in Fall 2012.
Dare: We fight about the little things, so we can ignore the big things.
Cave Relations
A prehistoric couple invent miscommunication.
Ooga: Bryn Boice*¤
Booga: Christopher Catalano*¤
Compound Break
A young woman confronts her mother, and herself.
Alexandria: Ashley Hesse*¤ Mother: Jolie Curtsinger*
Moon Rocks
The fate of the world rests in the nose of one druggie slacker.
Ian: Robert W. McMaster¤
Trevor: Gary Lee Mahmoud
Ash: Shelleen Kostabi
Parker: Robert Larkin¤
Walk a Mile
One woman, one man, and two empty shoes, all give up their secrets on the railroad tracks.
Woman: Alix McEachern Jones*¤
Man: Mike Mihm¤
Special thanks to Wendy Bagger¤
An Act of Heroism
One man can make a difference. But not this one.
Captain Awesome: Dan Matisa*¤
Hobo Joe: Jed Aicher*
The Nag: Lesslie Dodge Crane*¤
Special thanks to MEC for dedication to fashionable couture.
Special thanks to HJC for dedication to the mission.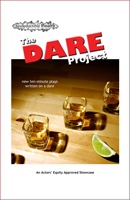 Front of House: Ursula Anderman, Melissa Boatright, Jenilyn Rodriguez
Booth Operator: Shannon Michael Wamser

taxdeductible theatre also wishes to thank...
Kyle Groff Photography
The Church of Immaculate Conception in Astoria
St. Patrick's Church
Bob Choinere
Tom Fazio
Urban Stages Theatre
click here for a pdf version of the program
* denotes actor appears courtesy of Actors' Equity Association.
¤ denotes taxdeductible theatre core member.