The Dare Project #5
January 31, 2007 - The Wings Theater (NYC)
Dare: At least 3 characters, convinced they've lived a previous life, try to convince the others, who doubt it
Chip off the Old Block
Two men who compensate for their ordinary lives gain perspective from a third, at a reality show casting.
Charles: Zach Fisher*
Kevin: Rich Fromm*
Ernie: Dan Matisa*
Special thanks to Casey Burden for the lunchbox artwork
Dare: Three needs: Birth control, popcorn, and tooth-blacking (pirate accessory)
Three Needs
Doing a round of speed dating helps to clarify one woman's needs in a boyfriend.
Katie: Bryn Boice*
Pete: Michael Poignand*
Olivia: Kelly Howe
Tim: Dan Schultz*
Mandy: Melissa Menzie
Lance: J.C. Pierce
Special thanks to Jimmie Galaites and the voice of Scott Casper
Dare: I think there's a two karat diamond up my arse, is there a surgeon present?
Better Control Through Research
A South African diamond mining corporation goes to extreme lengths to find a missing gem.
Man: Peter Pryce
Linus: John Hashop
Diver 1: Dan Matisa*
Diver 2: Rich Fromm*
Special thanks to Phoenix Theatre Ensemble and Tony Mulanix
Dare: Every other word must begin with k or "k" sound
Kaliedescope the Clown's Consonant Caravan
Beloved kids show comedy host Kaliedescope the Clown just can't accept Conjunction the Kangaroo replacing Kaliedescope's life's calling.
Kaleidoscope the Clown: Jed Aicher*
Conjunction the Kangaroo: Christopher Catalano
Special thanks to Julia Tobey and Keifer Mansfield
Dare: Write a musical about the Iraqi War
The First Casualty of War is...DANCE!
An intrepid reporter searches for a big story in the Iraqi war-zone, through song.
Tim Janney, US Newsman: Adam Branson
Joe, the Producer: Terry Small*
That Fucking Girl: Andrea Rutherford*

The Band: Ken Ferrigni and Aaron Kliner
Special thanks to Moussa at the Islam Fashion Center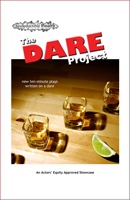 Stage Manager: Emily May Smith
Front of House: Shannon Locke, Kendra Kay, Rachel Bauder
Light Board Operator: Scott Casper
Sound Board Operator: Matt Given

taxdeductible theatre also wishes to thank...
St. Patrick's Church
Tom Fazio
Liz Montenegro and Anheuser-Busch, Inc.
CopyCom
Materials for the Arts
NYC Department of Cultural Affairs/NYC Department of Sanitation/NYC Department of Education.
The Wings Theatre
click here for a pdf version of the program
* denotes actor appears courtesy of Actors' Equity Association.
¤ denotes taxdeductible theatre core member.