The Dare Project #16
November 2, 2010 - The Wings Theater (NYC)
Dare: A happy play about a woman who was a nun in her former life.
The Merry Way
A hopeless bartender meets a singing nun who changes his life.
Paddy: Michael Poignand*¤
Felicity: Rebecca Hart*
Special thanks to James J. Fenton
Dare: To put one boob on a store front window.
The Boob
When putting 'em on the glass inspires an entire town.
Frank: Robert Larkin¤
Stu: Scott Casper*¤
Ensemble: Christopher Catalano*¤, Lesslie Dodge Crane*¤, Jimmie Galaites*¤, Alix McEachern Jones*¤, Mike Mihm¤, et al.
Dare: To write a thriller with a hero that can't tell time
Office Thriller
Losing yourself and losing time in the daily grind.
Boss: Lesslie Dodge Crane*¤
Hero: Joseph DiSalle*
Dare: To buy the bar around.
WSJD?
Revisiting a miracle, salvation comes to those we least expect.
Chapman: Madeleine Burns*
Peter: Eric C. Bailey*
Frank: Robert Larkin¤
Jesus: Jimmie Galaites*¤
Dare: To write a ten minute preview of one of the full length plays currently in development with taxdeductible theatre.
Unattached
When the appropriate answer to his marriage proposal is a punch in the face.
Ken: Mike Mihm¤
Dagny: Alix McEachern Jones*¤
Doctor: Wendy Bagger¤
Party Guests: the company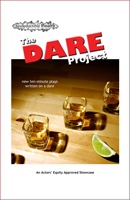 Front of House: Ursula Anderman, Ashley Hesse¤
Light Board Operator: Kendra Kay¤
Sound Board Operator: Robert W. McMaster¤

taxdeductible theatre also wishes to thank...
James Beeler Photography
The Church of Immaculate Conception in Astoria
St. Patrick's Church
Bob Choinere
Tom Fazio
The Wings Theatre
click here for a pdf version of the program
* denotes actor appears courtesy of Actors' Equity Association.
¤ denotes taxdeductible theatre core member.