The Dare Project #15
June 2, 2010 - The Wings Theater (NYC)
Dare: Last resort: midwifery
Pushing and Shoving
What you don't expect while you're expecting.
Mother: Lesslie Dodge Crane*
Father: Rich Fromm*
Midwife: Anna Stone*
Dare: Impoverished writer trying to confess his love in a world where vocab- is heavily taxed.
Vocab You, Larry
There are some things you can say and some things you can't... and some will cost you.
Larry: Aaron Kliner
Lydia: Gwendolyn Wottowa*
Dare: An agoraphobic street magician
Drawing Jack
A magical encounter between a hermit and a pizza delivery boy.
No, it's not a dirty movie.
Merlin: Robert Ian Mackenzie*
Jack: Alejandro Rodriguez
Special thanks to Jeff Grow
Dare: To write a play about your first kiss, and how it impacts the arrest of The Pope
Exposed
An out of place hipster's iPhone camera may have seen more than anyone ever expected.
Maria: Madeleine Burns*
The Chief: Robert Larkin*
Elizabeth: Alix MacEachern Jones*
Dare: To write about people who are Bitchy, Stupid, AND Ugly but still have fun with opera
Opera Goggles
An anniversary gift surprises a husband in more ways than one.
Frank: John Hashop*
Tara: Liz Dailey
Mr. Toupee: Scott Casper*
Mrs. Toupee: Cammie West
Jerry: Christopher Catalano*
Mother: Navida Stein*
special notes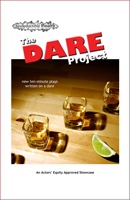 Front of House: Ursula Anderman, Ashley Hesse, Kendra Kay
Light Board Operator: John Keitel
Sound Board Operator: Robert W. McMaster

taxdeductible theatre also wishes to thank...
James Beeler Photography
The Church of Immaculate Conception in Astoria
St. Patrick's Church
Bob Choinere
Tom Fazio
The Wings Theatre
click here for a pdf version of the program
* denotes actor appears courtesy of Actors' Equity Association.
† denotes director is a member of Stage Directors and Choreographers Society.
¤ denotes taxdeductible theatre core member.