The Dare Project #21
November 14, 2012 - The Abingdon Theatre (NYC)
photos by Kyle Groff - visit Kyle Groff Photography
Dare: To write a play that takes place in the same spot, in three different time periods, at the same time.
Line from #hero: "…you don't need to be here tonight. You could be doing so much better."
Bed, Center
It always comes back to who is getting who into bed.
Fitzwilliam: Joe Danbusky*
Eliza: Bethany McNamara
Joseph: Marc LeVasseur*
Patty: Alix McEachern Jones*¤
Tara: Amanda Ladd*¤
Cole: Christopher Catalano*¤
Special thanks to the TDF Costume Collection.
Dare: A play about the ultimate backpack.
Line from #hero: "…it all seems so easy from your distance."
Last Call
Sometimes you've got to hit bottom before you can know what's weighing you down.
John: Nicholas Alexiy Moran*
Oscar: Paul Singleton*
Will: Dan Matisa*
A tremendous thanks to Bryn as well as Billy, Kev, Jimmie, Rich, Nick, Paul, Dan, and of course… Amy.
Dare: To write about women who are addicted to men who are addicted to tweed.
Line from #hero: "He's got to start over from scratch with you every time?"
Tweeds
After a falling out over a peculiar fetish, three women try to reconnect.
Chris: Jolie Curtsinger*
Wendy: Katharine McLeod*
Maggie: Carol Hickey*
Special thanks to Laurie Schaefer, Steve Wargo & Elizabeth Sweeney.
Dare: White Noise and small government.
Line from #hero: "You're a symbol for them to invest deeper in themselves."
Mraz
The new guy is welcomed into town at the local… men's club.
Bill: Dan Matisa*
Ron: Alex Pappas*
Jake: Steve French*
Walt: Kyle Groff*
Derek: De'Lon Grant*
Toby: Christopher Catalano*¤
Special thanks to American Stage in St. Petersburg, Florida, for help with costuming.
Dare: A sneak preview of our upcoming play, set to premiere later this winter.
#hero
The spotlight that shines on a new celebrity doesn't turn off, even when he comes home.
Reporters: Amanda Ladd*¤
Christopher Catalano*¤
Nicholas Alexiy Moran*
Carol Hickey*
Joe Danbusky*
Grace: Wendy Bagger¤
Norman: Robert Larkin¤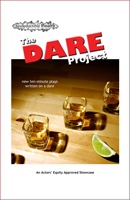 Front of House: Melissa Boatright, David Castro¤, Bridget Harvey, Desiree Maumus
Booth Operator: Robert W. McMaster¤

taxdeductible theatre also wishes to thank...
Kyle Groff Photography
St. Patrick's Church
Shetler Studios
Bob Choinere
Tom Fazio
The Abingdon Theatre
click here for a pdf version of the program
* denotes actor appears courtesy of Actors' Equity Association.
¤ denotes taxdeductible theatre core member.