The Dare Project #8
September 26, 2007 - The Wings Theater (NYC)
Dare: Write in the style of a British Farce that contains the line, "I didn't invite him because I knew he would come." And it has a scratch and sniff element
Finishing Jonathan
An aspiring writer has to complete his recently deceased employer's manuscript in a hurry.
Jonathan: Russel Hankin
Frank: Brad Makarowski
Vera: Lesslie Doge Crane
Arthur: Christopher Catalano
Dare: A love story involving global warming
Tip of The...
Asava and Kit fear outside forces are sending their lives adrift from one another.
Kit: Martha Lee
Asava: Rich Fromm
Dare: A one minute play with ten different endings
The Long War
Dan examines many perspectives on battles with his weight.
Man: Dan Schultz
Dare: When being uncomfortable is comfortable
Interrupting Murtle
Murtle seeks comfort from her therapist and her boyfriend with mixed results.
Murtle: Elizabeth Blue
Roy: Kerry Wolf
Joe: Mike Mihm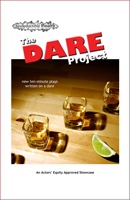 Front of House:
Light Board Operator:
Sound Board Operator:

taxdeductible theatre also wishes to thank...
James Beeler Photography
The Wings Theatre
click here for a pdf version of the program
* denotes actor appears courtesy of Actors' Equity Association.
¤ denotes taxdeductible theatre core member.