The Dare Project #4
November 8, 2006 - The Wings Theater (NYC)
Dare: First line: Do you think she's Christian? Last line: Get it off my toe!
Bare Naked Lady
A husband is left with questions about his wife's past when she shows up on "Girls Gone Wild."
Charlie: Shannon Michael Wamser*
Matt: Richard Fromm*
Mo: Bryn Boice*
Dare: A tap dancer with brocolli (sic)
2(andyboy)
Insomniac Andy struggles to find a balance between his work, his life, and his needy creative muse, Shiny Bow Tie Man.
Andy: Aaron Kliner
Chesney: Tijuana Ricks*
Shiny Bow Tie Man: Arlyn Mick*
Special thanks to Deanna Gibson, Matt Schneider, Dan Schultz
Dare: A political satire from a right-wing, not a left-wing perspective
The Tao of Bill
Guess who's coming to dinner? A black republican.
Mom: Krissy Sheilds*
Dad: Joseph DiSalle*
Girl: Genevieve Deverya*
Man: Alton Burton
Special thanks to Mom, INTAR, George W. & HW Bush, Ann Coulter, Good Old Rummie, Bill O'Reilly, Rush Limbaugh, Tucker Carlson, Pat Buchanan, Robald Regan, Hillary, Chelsea, and of course... Bill Clinton
Dare: Write a play about purple teeth, mythological two-lips
Deep Purple, Mood Indigo
The manager of a jazz club must face a mistake he made 25 years ago.
Tommy: Scott Casper*
James: Peter Maklin*
Bobby: Bobby Peaco*
Joy DeLafleur: Nikki E. Walker*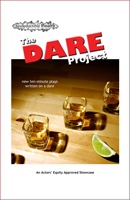 Stage Manager: Kelly Howe
Front of House: Rachel Bauder, Kendra Kay
Light and Sound Boards Operator: Matt Given

taxdeductible theatre also wishes to thank...
Stages on the Sound St. Patrick's Church
Ed Coco
Tom Fazio
Henry Pham and Roses Turn Liz Montenegro and Anheuser-Busch, Inc. The Wings Theatre
click here for a pdf version of the program
* denotes actor appears courtesy of Actors' Equity Association.
¤ denotes taxdeductible theatre core member.