The Dare Project #1
June 26, 2006 - Stella Adler Studios (NYC)
Dare: Write a play containing the line or subject, "I think I like you more than I want to fuck you."
A Memoir
Dan takes a personal journey toward enlightenment.
Dan: Dan Schultz
Sarah: Sarah Beth-Lee Williams
Dare: A love play in verse
A Love Play in Verse
Ice, Fire and Clarity
Written on a Dare
A man runs away
From his fiancee at their
Rehearsal dinner.
He: Adam Hose
She: Deanna Gibson
Her: Bryn Boice
Dare: Write a play about a transsexual religious zealot
Stuck
A conservative woman and a tranny get stuck on an elevator together.
Amber de la Norm: Jimmie Galaites
Christy Ann: Robin Benson
A Voice: Rich Fromm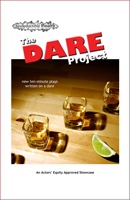 Stage Manager: Rachel Bauder
click here for a pdf version of the program
* denotes actor appears courtesy of Actors' Equity Association.
¤ denotes taxdeductible theatre core member.